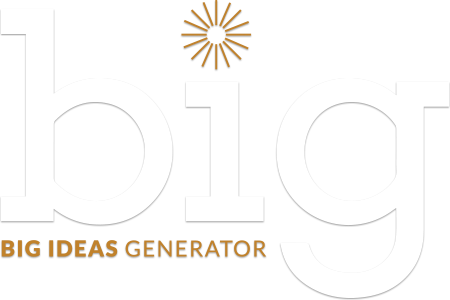 Vote for the BIG Ideas Generator!
Vote for the BIG Ideas Generator!
Voting for the 2015 People's Choice Award is now live - click here and find us on page 10 under "Entrepreneurship"! As a Top 100 Finalist, BIG is in the running and eligible to receive this award, which is determined by popular vote. Voting ends on Friday, October 9th.
By Julia Lane
The Big Ideas Generator (BIG) has been selected as a finalist for the 2015 Chicago Innovation Awards. BIG, an initiative of Arete, is a platform to systematically identify, fund, and support the long-term growth of early-stage, breakthrough ideas in basic research.
Over 500 of the region's innovators have been nominated for the 2015 Chicago Innovation Awards. This annual celebration brings together those who are pioneering innovation with brand new products, services and processes. In the next step of the competition, a panel of judges will select the 22 winners. Winners are announced at the Chicago Innovation Awards Ceremony on October 27th at the Harris Theater. The top 100 finalists will also be profiled on the Chicago Innovation Awards website during the People's Choice Award voting, in which thousands of Chicagoans will view their innovation and vote for their favorite.
BIG identifies promising, truly iconoclastic ideas via a selection process that is both unique and rigorous. Projects undergo dual review levels - by peer experts outside of the University of Chicago and by a multidisciplinary Faculty Advisory Board. Winners receive $100,000 and develop a 2-year research business plan to ensure their scientific, institutional and financial development. A team of research strategists works with the scientists to help them secure substantial external funding past the initial award and establish the project at the University long-term. The funding mechanism relies on private philanthropic donations to the University to fuel the early-stage, bold scientific projects within a mature institutional structure.
BIG's Fall Funding cycle will open on October 14 and all proposals must be submitted by Monday November 16, 2015. More information about funding opportunities can be found here.
Learn more about BIG, our projects, and funding opportunities on our website. Additional information about the Chicago Innovation Awards can also be found on their website.
~ Upcoming Events ~